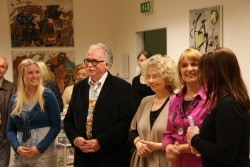 Last Thursday the opening of the exhibition "Mystic and Surreal Worlds" took place in the gallery Offenes Atelier D.U. Design in Villach (A). The gallery is very central in the inner town of Villach – which has of course been explored extensively.
Dorothee Unkel, the owner of the gallery, had the not very simple challenge to hang the many paintings of different styles pleasing. The result was very satisfying for me, she succeeded in a harmonic ordering for an exciting exhibition. That also found the guests, to which the artists had been introduced professionally by fellow artist Barbara Rapp. Also the entertaining part didn't miss out, the musical styling was in the hands of Chris Stermitz, who arranged great atmosphere with amazing voice and guitar. For us artists – Renate Tönnies, Jakob E. Omlin and myself – it has been a nice evening with many interesting conversations. Again many thanks to Dorothee Unkel for the perfect organisation and successful opening!
The exhibition runs until April 23rd, 2011.