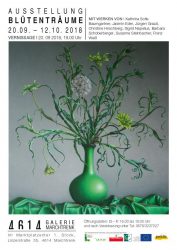 The first exhibition in the context of the opening of the 4614 Galerie Marchtrenk is entitled "Blütenträume" (Blossom Dreams).
I am happy to be part of it with four coloured pencil drawings!
There will also be works from Kathrina Sofie Baumgartner, Jasmin Eder, Jürgen Grazzi, Christine Hirschberg, Barbara Schoberberger, Susanne Steinbacher und Franz Weiß.
Opening: 20th September 2018, 19.00
Duration: 20th September to 12th October 2018
Opening hours: Tue – Fri 16.00 – 19.00 and by appointment