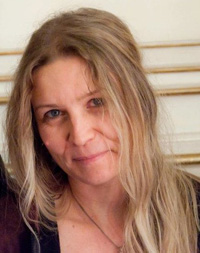 Born in Linz, Austria in 1969. Lives in the Mostviertel in Lower Austria, where she and her husband run the Hortus Permaculturis – an organic permaculture garden.
Sigrid Nepelius graduated at the HBLA für künstlerische Gestaltung (a school for arts and artisan crafts) in Linz, then worked as a graphic designer for more than 20 years before she concentrated on painting. Intensive involvement with spiritual questions, numerous workshops, i.e. meditation and shamanism, and love to nature accompany her since youth and shape her way of living and working.
Most of her oil paintings are created intuitively directly on canvas by means of free association, conceptual works in various techniques are inspired by nature.
As an active networker for fantastic art she runs the webzine Phantastisch.at, since 2013 she has also been an organizer and curator of fantastic art exhibitions (amongst others the Labyrinth exhibition series together with Christine Hirschberg).
Exhibitions in Austria, Belgium,Germany, Italy, Russia und Spain.