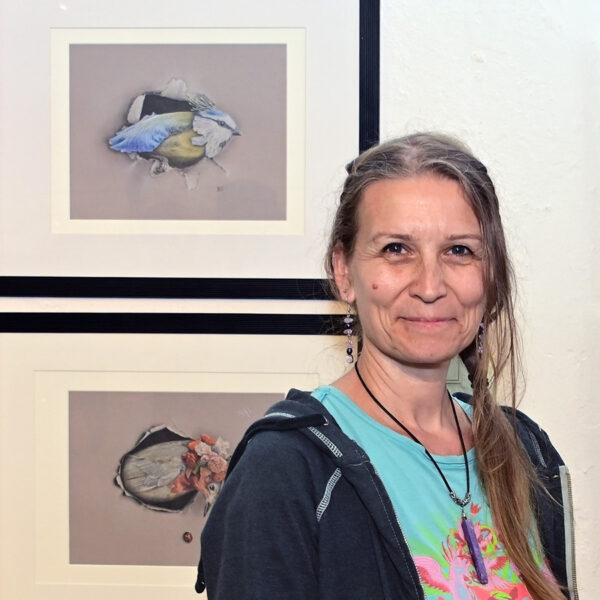 Biography
I was born in 1969 in Linz, Austria. My home is now in the Mostviertel region of Lower Austria, where I run the Hortus Permaculturis – an organic permaculture garden together with my husband.
After graduating from the HBLA für künstlerische Gestaltung in Linz, I worked as a graphic designer for more than 20 years before turning to painting in 2007.
Intensive engagement with spiritual themes as well as a love of nature have accompanied me since my youth and have shaped the way I live and work.
In the creation of my pictures, the intuitive approach is in the foreground.
As an active networker for the fantastic arts, I run the web magazine Phantastisch.at. Since 2013 I have been working as an organiser and curator of Phantastic Art exhibitions (including the Labyrinth exhibition series together with Christine Hirschberg).
Exhibitions in Austria, Belgium, Germany, Italy, Russia und Spain.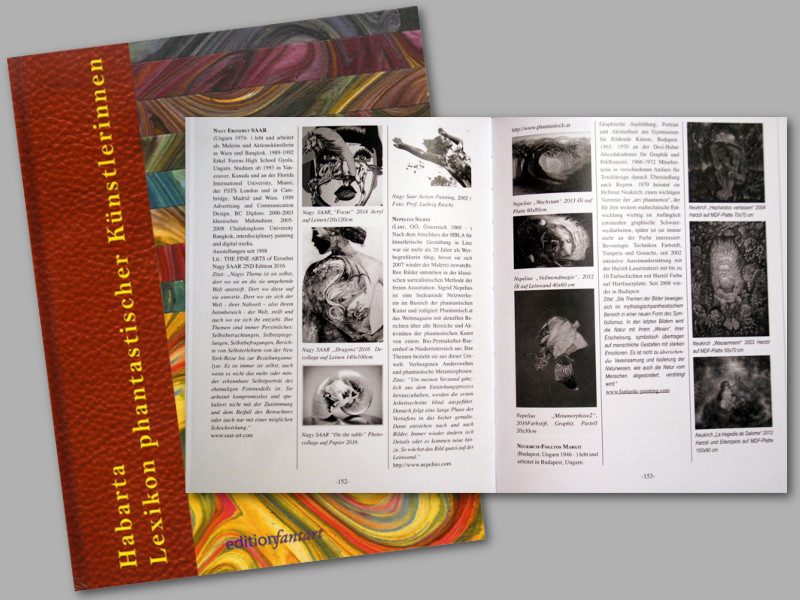 Exhibitions
"Grafik und Gedrucktes", Marchtrenk (AT), 2022
"Von phantastischen Tieren und Landschaften", Marchtrenk (AT), 2022
"nass", Amstetten (AT), 2021
"Sommerausstellung Palette Kunstforum OÖ", Marchtrenk (AT), 2021
"Ars Insectum", Marchtrenk (AT), 2021
"Vervielfältigung", Amstetten (AT), 2021
"Jahresausstellung Europäischer Kunstkreis", Steyrermühl (AT), 2020
"Sommerausstellung Palette Kunstforum OÖ", Marchtrenk (AT), 2020
"Bunt gezeichnet", Marchtrenk (AT), 2020
"Grand Salon – Colors", Bad Säckingen (DE), 2020
"Labyrinth der Wirklichkeiten", Fornach (AT), 2019
"Alles für die Katz", Marchtrenk (AT), 2019
Jahresausstellung Europäischer Kunstkreis (AT), 2019
"Winterwonderland", Marchtrenk (AT), 2019
"Querschnitt", Amstetten (AT), 2018
"Bilder einer Ausstellung", Fischlham (AT), 2018
"Blütenträume", Marchtrenk (AT), 2018
"Realistisch – Phantastisch", Traun (AT), 2018
"Traum und Zeit", Aichach (DE), 2018
"Welt der Träume", Rastatt (DE), 2018
"Labyrinth der Wirklichkeiten", Wels (AT), 2018
Jahresausstellung AEA, Ansfelden (AT), 2017
Papiermachermuseum Steyrermühl, Steyrermühl (AT), 2017
"4 Art-Genossen", Weinburg (AT), 2017
"Das unbekannte Land ", Braunau (AT), 2017
"real – surreal – irreal – ?", Bad Säckingen (DE), 2017
"Camarillo and friends", Bremen (DE), 2017
"Malerische Welten", Marchtrenk (AT), 2016
Jahresausstellung Europäischer Kunstkreis, Linz (AT), 2016
"Austrian Dreamscapes", Bremen (DE), 2016
annual exhibition Europäischer Kunstkreis, Gmunden (AT), 2015
Intermezzo II – Phantastisches, Saxen (AT), 2015
Labyrinth der Wirklichkeiten, Linz (AT), 2015
"Real-Irreal-Surreal?", Bremen (DE), 2014
Jahresausstellung Europäischer Kunstkreis, Linz (AT), 2014
callas art-affair 2014, Bremen (DE), 2014
"Dreams and Divinities", Travelling Show, Toledo (ES) – Granada (ES), 2013
"Dollar, Schätze und Kunst. Ist die Uhr schon abgelaufen?", Barockschloss Riegersburg (AT), 2013
art imaginär 2013, Phantastic in the box – collection Westermann, Neustadt-Mußbach (DE), 2013
Arte Fantastica, Castello di Drena (IT), 2013
"Phantastenmuseum Wien in Berlin", Galerie Dikmayer, Berlin (DE), 2012
"Phantastenmuseum Wien presents contemporary austrian artists", A.A. Bachruschin Theater Museum, Moscow (RU), 2012
"The Light Fantastic", Galerie Nova Belgica, Sint-Truiden (BE), 2011
"Mystic and surreal worlds", Galerie Offenes Atelier D.U. Design, Villach (AT), 2011