Internationale Sonderausstellung 2013 im Barockschloss RiegersburgInternational special exhibition 2013 at Riegersburg Baroque Palace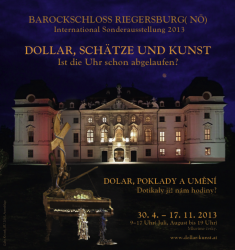 Die internationale Sonderausstellung 2013 "Dollar, Schätze und Kunst. Ist die Uhr schon abgelaufen?" auf Barockschloss Riegersburg zeigt als Höhepunkt die Sammlung "1 Mio Dollar" der Künstlergruppe Libellule. Zusätzlich werde Werke von zahlreichen weiteren Künstlern ausgestellt, ich freue mich, heuer mit 4 Bildern Teil dieser großartigen Ausstellung sein zu dürfen!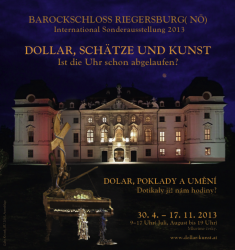 The international special exhibition 2013 "The Dollar, treasures and art. Has time ticked away?" at Riegersburg baroque palace presents as highlight the Groupe Libellule show "1 Mio Dollar". Alongside numerous works of many further artists are being exhibited, I´m happy to be part of this great exhibition this year with four paintings!
Ausstellungsdauer: 30. April bis 17. November 2013
Duration:  April 30th to November 17th 2013