"Torwächter" Schritt-für-Schritt"Gatekeeper" Step-to-Step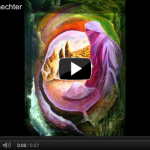 Um meine Arbeitsweise zu veranschaulichen habe ich beim Bild "Torwächter" verschiedene Zwischenstadien fotografiert und zu einem Film verarbeitet.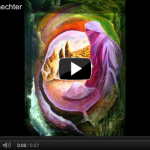 To show how I work I have photographed differnt steps while painting "Torwächter" and put them together in a movie.
Das erste Bild ist die Grundierung, die ich in einer Art Meditation blind zu Musik anfertige. Dabei ist mir wichtig, das Denken möglichst auszuschalten und meine Hand vom Unterbewusstsein oder einer anderen Quelle führen zu lassen. Das Ergebnis ist abstraktes "Gekritzel". Dann vertiefe ich mich in dieses abstrakte Bild so lange, bis sich mein Blick so verändert, dass ich Motive darin erkennen kann, die ich dann in vielen Lasurschichten übereinander aufbaue. Im Laufe des Malprozesses zeigen sich weitere Motive – so weiß ich im Vorhinein nie, was für ein Bild entsteht … und ich werde immer wieder vor neue maltechnische Herausforderungen gestellt.
The first picture shows the priming, which I do blind and in a kind of meditation. Thereby it´s important to me to quit thinking and let my hand be controlled by my subconcious mind or something other. The output is an abstract scrawniness. Then I immerse myself in this abstract picture until my sight chances and allows me to spot different motifs, which then I build up in many layers of transparent glazes. During painting more motifs show up – so I never know from the start what picture comes out … and I have to meet new challenges in painting technique again and again.